(3-5)
at
(3-5)
Friday, November 3, 2017, 7:30 PM PDT
Staples Center, Los Angeles, CA

Referees: Ken Mauer (#41), Bennie Adams (#47), Dedric Taylor (#21)

Line: Lakers -2.5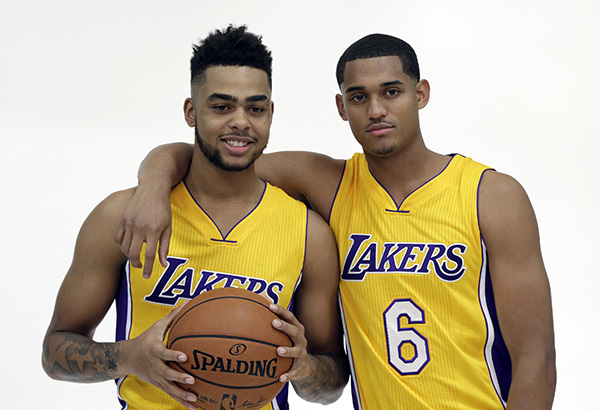 GAME PREVIEW: NETS AT LAKERS
by NBA.com
LOS ANGELES -- The Los Angeles Lakers and Brooklyn Nets are benefiting from their offseason trade, and they will get their first chance to compare their acquired assets on Friday night at Staples Center.

The Lakers sent 2015 second overall pick D'Angelo Russell and center Timofey Mozgov to the Nets in exchange for center Brook Lopez and Brooklyn's 2017 first-round draft selection. Los Angeles used that pick to draft forward Kyle Kuzma, who is easily the Lakers' biggest surprise so far.

Kuzma moved into the team lead at 15 points a game after scoring 22 in a 113-110 loss at the Portland Trail Blazers on Thursday night. The Lakers fell when Portland guard Damian Lillard sank a tiebreaking 3-pointer with less than a second remaining.

A 22-year-old out of the University of Utah, Kuzma is shooting 54.3 percent from the floor after making 10 of 17 attempts against the Blazers.

Two nights earlier, Kuzma made all four of his 3-point tries and scored 16 points off the bench in a 113-93 victory against the visiting Detroit Pistons.

Kuzma could see even more playing time after starting forward Larry Nance Jr. left the Thursday game with a fractured left hand. Nance is out indefinitely.

"The NBA space has really helped," Kuzma told the Deseret News. "Teams have to really respect my jumper, and I'm a mismatch at the four, so a lot of times I have slower guys on me and I can exploit that. I'm just comfortable all over the floor. It's been a pretty easy transition for the most part so far."

Russell has fit in nicely with the Nets. The shoot-first point guard is averaging a team-leading 21.7 points as well as 4.1 rebounds and five assists in seven games.

He will be counted on to help the Nets end a three-game losing streak that began after they beat the Cleveland Cavaliers on Oct. 25. The matchup against the Lakers will open a five-game road trip, matching Brooklyn's longest of the season.

"It's going to be an exciting crowd about my comeback," Russell said. "But it's really about winning for me. Starting off (the road trip) with a loss would be a tough one to stomach going into the next few games. So if we can get that first one, it would give us some intensity going into this road trip. ... I think I've gotten better over the summer, so I definitely want to go in there and showcase that, but it's about winning."

Lopez was drafted 10th overall by the Nets in 2008 and spent the past nine seasons with New Jersey/Brooklyn.

The 7-footer emerged as a 3-point threat with the Nets last season. He shot 34.6 percent on his 387 tries from long distance after making just 3 of 31 from 3-point range in his first eight seasons in the NBA. Lopez has yet to regain his stroke from deep this season, however, entering Friday 8 of 30 (26.7 percent).

He can still score, though. Lopez put up a team-high 27 points in the loss to the Trail Blazers.

Mozgov is averaging 4.8 points and 5.3 rebounds through eight games with the Nets.

Brooklyn most recently lost to the visiting Phoenix Suns on Tuesday night in a matchup of the two worst defensive teams this season.

The Nets (3-5) rank last in the NBA in points allowed at 118.8 a game. That is an area the Lakers have improved significantly since last season, when they finished 28th in the NBA at 111.5 points a game. Los Angeles (3-5) is 19th in the NBA at 107.4 points allowed per game.
http://www.nba.com/games/20171103/BKNLAL#/preview