(0-0)

LAKERS

at

TRAIL BLAZERS

(0-0)
Thursday, October 18, 2018, 7:30 PM PDT
Moda Center, Portland, OR

Referees: Zach Zarba (#15), Brian Forte (#45), Gediminas Petraitis (#50)

Replay Center: John Goble

Line: Blazers -2.5

National TV: TNT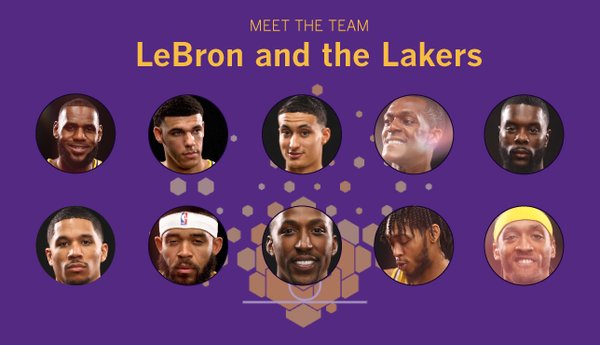 GAME PREVIEW: LAKERS AT TRAIL BLAZERS
BY NBA.COM

PORTLAND, Oregon -- It's not going to be just a game when the Los Angeles Lakers invade Moda Center Thursday night to face the Portland Trail Blazers in the regular-season opener for both teams.

It will be a happening.

It's the first game in the splendid 16-year NBA career of LeBron James that the future Hall of Famer will be wearing the uniform of a Western Conference club -- the Lakers, with whom he signed a free-agent contract during the offseason.

Members of the national media and a TNT audience will be watching along with a full house at the 20,000-seat Moda Center. And James has caught the fever.

"The season is here," James told reporters after a recent practice. "First of 82 (regular-season games). It will be fun."

The basketball world is intrigued to find out how well the 33-year-old James will mesh with his mostly younger teammates, and how much he can help them improve on their 35-47 record of a year ago. Thursday at Moda Center is the first step, but Lakers coach Luke Walton isn't taking it as a giant leap for mankind all in one swoop.

"We've got four years," said Walton, referring to James' contract, which calls for three years guaranteed and a player option for a fourth. "We want to make sure we're not only playing our best come the end of the season, but that he is fresh. It's a goal for us, and it's not a one-year journey."

James, who led the NBA with 36.9 minutes played per game in 2017-18, likely won't match that average this season. Even so, he figures to be on the court a lot Thursday night.

"If my body is feeling good, then I'm out there," James said. "If my body is not able to perform at the level I would like to play for my teammates, then I won't."

The Lakers could have drawn an easier first opponent than the Trail Blazers, against whom the Lakers have had no success in recent years. Portland holds a 15-game win streak in the series dating to March 2014, and has won seven in a row at Moda Center.

The Blazers mostly stood pat after going 49-33 and earning the No. 3 seed in the Western Conference playoffs a year ago, then getting swept in four games by New Orleans in the first round. Portland added a pair of low-cost free agent guards, Seth Curry and Nik Stauskas, to bolster its perimeter shooting game. The Blazers may also have a more significant role available now for 7-1 stretch forward Meyers Leonard, who shot .783 from the field and .727 from 3-point range in the preseason.

"Seth and Nik give us a totally different element with Meyers, the way he shot in the preseason," Portland general manager Neil Olshey said. "We brought in guys who could have more of an impact at the offensive end."

The Blazers may be without their starting small forward, Moe Harkless, who missed the entire preseason while rehabbing from knee surgery. His place will likely be taken Thursday night by third-year pro Jake Layman, who averaged 12.0 points and shot .512 from the field and .500 on 3-point attempts through the preseason.

"We're pleased with the way Jake has seamlessly stepped into that role," Olshey said.
https://www.nba.com/games/20181018/LALPOR#/preview
THREE THINGS TO KNOW: LAKERS AT BLAZERS



BY JOEY RAMIREZ, NBA.COM

Here is what you need to know before the Lakers open the 2018-19 season against the Portland Trail Blazers.



1) The LeBron James era is set to begin



Since the day he signed in early July, Lakers fans have waited for the day LeBron James would make his official debut in purple and gold.

James begins his 16th NBA campaign fresh off one of the dominant runs in NBA history, as he averaged 34.0 points, 9.1 rebounds and 9.0 assists in last year's playoffs. However, this team is constructed unlike any of his previous squads.

LeBron has never played on a team among the NBA's top 10 in pace; the Lakers had the third-highest last season. James' Cavaliers had the NBA's second-worst defensive rating last year; the Lakers were 12th.

It will take weeks, if not months, to properly evaluate how the roster fits around James, but it is a certainty that the King himself remains a one-of-a-kind dynamo.

He sizzled in the preseason — 13.8 points, 4.8 rebounds, 3.8 assists and 60.0 percent shooting in only 15.8 minutes per game — and we have years of evidence of the destruction he causes opponents in the regular season.

Portland certainly remembers, as the last time he visited the city he dropped 35 points, 14 rebounds, six assists and three blocks, while hammering a dunk of the year candidate on Jusuf Nurkic.



2) Rondo is an unfriendly face for the Blazers



Another player fresh in the minds of Portland fans is Rajon Rondo, who helped engineer New Orleans' playoff sweep of the third-seeded Blazers six months ago.

Though he denies the existence of "Playoff Rondo," the point guard certainly stepped up his game in the postseason, averaging 11.3 points, 7.5 rebounds and a whopping 13.3 assists in that scorching series.

While coach Luke Walton has yet to reveal his starters, Rondo would be the likely candidate at point guard considering he started every preseason game he participated in. That would leave Lonzo Ball to lead the second unit.

Ball only came off the bench twice last season, but would be surrounded by a second unit that boasts arguably the most firepower in the NBA. Reserves are likely to include Kyle Kuzma, Michael Beasley, and Josh Hart or Kentavious Caldwell-Pope.

Regardless of who starts, the Lakers will have the option to have three elite playmakers — James, Rondo and Ball — on the floor at once.



3) Portland has been a house of horrors



They don't come much deadlier than First Team All-NBA guard Damian Lillard, who ranked fourth in the NBA in scoring last season (26.9). A maestro out of pick-and-rolls, foul magnet and long-range threat, Lillard can fill the bucket from anywhere on the floor, and hit a last-second game-winner last time the Lakers visited Oregon.

Meanwhile, he is flanked by C.J. McCollum, who is one of the league's premier shooters — both off the dribble and on spot-ups — and led all players in made jumpers last season.

And recent history certainly isn't on the Lakers' side, as they have lost a franchise-record 15 straight against the Blazers. Even James — the world's greatest player — has fallen in five consecutive visits to the Rose City.

It hasn't been easy for anyone to get a win in Portland, as the Trail Blazers have won an NBA-record 17 home openers in a row, last falling in 2000 to a Lakers squad led by Shaquille O'Neal's 36 points.

And the Blazers will certainly be playing with some extra emotion, as they honor late owner Paul Allen, who passed away on Monday.
https://www.nba.com/lakers/news/181018- ... rs-blazers